By Jamie(Xuan)
It might be a bit late to mention about language biography now, but today's class really inspired me on the concept of ideologies and how they are related to my own language learning/use in real life experience.
As a Chinese, Mandarin as my native language have made up most of my life so far, and as I've been exploring more parts in China, the change of locations really contributes to my understandings of ideologies (which I was not even aware of at that time). Here I will share some of my experience and my thoughts.

I was born in a coastal city named Dalian in the Northeast part of China, where most people speak Dalian dialect in daily life. Interestingly however, in other parts of Northeast China, people use basically the same dialect, the Northeast dialect. Therefore, whenever I visited my relatives outside Dalian, I tried hard to imitate the Northeast dialect in order not to be "too strange". Still people recognized my nonnative accent and usually started with the question "Are you not from Northeast?" It does make me think that, is it the fact that Dalian dialect is largely different from those in other parts of Northeast, that actually isolates Dalian from other cities in this area to some extent?
Then I went to college in Shanghai, where I stayed for three years (and went on an exchange program for one year) and picked up some Shanghai accent. Last year I went to Beijing for a training program, and I took my Shanghai accent with me. There I received less friendly greetings in a lot of occasions (such as in grocery stores, subway stations, restaurants etc.) than the time when I still held a North accent several years ago. Since most urban parts of China were divided into North and South, and Beijing is seen as the capital of northern part whereas Shanghai is seen as the southern capital, there has been an invisible "competition" between these two cities (a bit like NYC vs L.A.). Therefore my Shanghai accent put me into an identity of Shanghainese, or at least some "Shanghai elements", which people in Beijing do not like, so that they ignored the fact that I am actually from the North, but saw me as a "stranger".
Here is a map I drew to give you a more visual concept about the regions.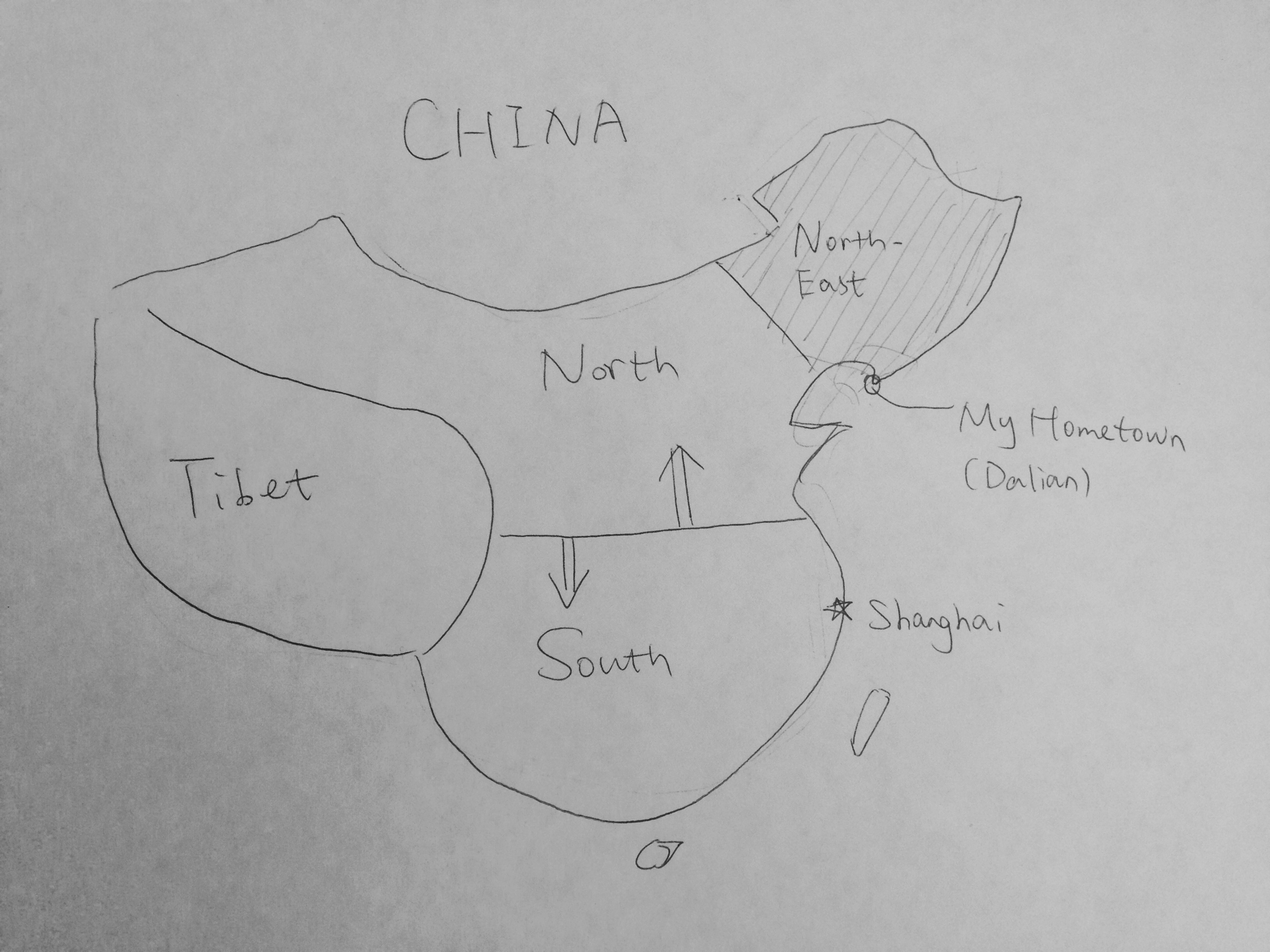 Map showing different parts of China
Being identified as a "stranger" made me think. Those many different dialects and accents in China virtually divided people into different groups, and the social identities given by these dialects and accents even go beyond geographical identities, as my examples shows. The ideologies people have towards a different dialect/accent sometimes bring sharply a "foreign" figure that it could blur the fact that the person is actually from the SAME area and have the same culture. The mark of another area this person has makes him/her no longer one of "their" own.
Did that ever happen to you? What do you think we can do to it?